INTEGRATIONS
July 1 - Aug 6, 2017
Meg Holgate/Steve Klein
Meg Holgate
The framework for her system of visual storytelling is constructed through a lens that continually explores light and dark, stillness and movement, soft and sharp shapes. Meg's work reflects her experiences philosophical beliefs and a lifelong study of art and its practice. She invites you to experience your own voyage in this lifetime, engaging you, the viewer through the compositional arrangements found in her oil paintings and glass sculpture.
Raised both in New York and London during the 60's, her childhood was spent being drawn to the parallel universes of the old masters and the contemporary works of the mid-century modernists. Her work continues to ride the crest between her appreciation of these works and the crafting of her own dream.
Meg currently lives and works in La Conner, WA.
Steve Klein
Creates a wide variety of imagery using shape, color, line, texture and the incomparable reflection of light that only glass can provide. "My recent work seeks to explore, and interpret personal visions that cause me to pause and appreciate what I am experiencing."
Los Angeles county Museum of Art curator, Howard N. Fox stated "As an artist Klein is quite literally an idealist, engaged in intercepting and revealing a sort of formal perfection that yearns for the ideality of mathematics, logic and philosophy. And yet, that sumptuousness and sensuality, the elegance and refined physicality of form, color, texture and scale are undeniably and assertively present in his sculptures. he manifests a perfecrt colloquy of the ideal and real in his art."
Steve currently lives and works in La Conner, WA.
Aug. 13 - October 1, 2017
Benjamin was born in 1928 in San Diego, California. Due to long ties with the region, his family made their home in the Pacific Northwest. 1n 1959 he moved to his current home on Guemes island where he starts and ends each day painting.
He works in a studio hidden behind rows of large Rhododendron bushes planted years ago. A prominent painter in the Northwest, the influence of modern European abstraction continues to be a significant force on his work. It is apparent that unlike other painters in the region who followed a mystic path, Max has continued to define his own way of working.
He asks viewers to take away what they see, as opposed to some pre-ordained description or style of painting.
Joanna C. Sikes
December 2017 - April 22, 2018
The Hunted: Reflection of the Hunter
For the months of December through April FORUM Arts will play host to an immersive exhibit by artist Joseph Rossano (American, b.1962). The Hunted: Reflection of the Hunter, Paradox, and The Wash will usher viewers through an evolving installation of his artworks, all focusing on a progression of animal reverence.
Rossano believes that humans express our reverence for nature through multiple avenues. "We are first drawn to nature, the outside, as it is a place that houses humankind, something inherently understood and quantifiable by us," says Rossano. "Yet the flora and fauna not bound by the constraints of our human world exist independently, and it is this independence, this perceived distance, that in turn fuels our curiosity in them.
"To assuage our intense curiosity, humans collect then inspect, dissect, process and consume nature in a myriad of ways, and for a myriad of reasons. Ultimately this collection of nature and our attempt to understand it reveals the fragility of its varied systems.
"A recognition of nature's fragility finally leads to a realization that if the natural world were left unchecked much of it would disappear, and ultimately we humans would disappear with it." Hence, it is Rossano's perspective that it is but a small leap to the realization that conservation and preservation can help to ensure the survival of all species, most notably our own.
October 6 - November 5, 2017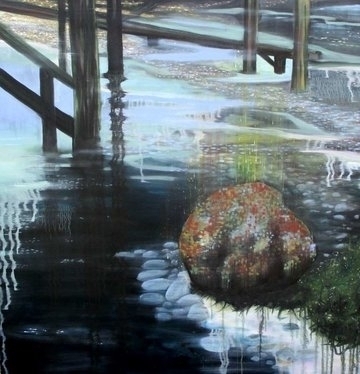 The Unwrapping of Time: River as Mystical Guide
A painting needs to reflect mystery, and if possible amplify it.
I want to end up with a painting that I haven't entirely planned. This method of chance, inspiration, and destruction may produce a specific type of picture, but it never produces a totally predetermined one. And in allowing an unplanned outcome, I hope to achieve the same coherence and objectivity that a random slice of nature always possesses.
What counts is the seeing. Anything can be painted. It's more difficult to see whether what one is doing is any good or not. What's important is not being able to do a something; it's seeing what it is. Seeing is the decisive act, and ultimately it places the maker and the viewer on the same level.
All my different paintings have one consistent foundation: me—my attitude and my intention which may be expressed in different ways but never essentially changes. The variety is superficial. One wears different clothes for different occasions; that has nothing to do with style.
Has painting reached its limit, everything done before? As long as people enjoy making paintings it can't die. It's perhaps fundamental to our being, for 40,000 years we have been making paintings. What other profession even comes close to that? Repetition is only boring when a painter's works are boring. Good art can't be made often enough.
A good painting seems just on the verge of telling us something important. That sensation of standing before the sea with its hidden swirling mysteries. That first glimmer among the shadows as you gaze up at the twilight sky and the first stars begin to appear. The potential promise of secrets revealed.
That closeness of some revelation that may fade away… may be aesthetic reality. In retrospect, obvious, or inevitable—yet also ever surprising. A most enlightening paradox…. the mythology of life.
.....and what is art and how is it recognized? Like the sound of moonlight dripping through pines…..
Todd Horton 2017
Visions of the Soul
April 27 - June 3 , 2018
Born and raised in the Pacific Northwest, Washington State artist, Roger Small, developed his own style with the palette knife in oils. He paints landscape in acrylic and Oils, from his studio in Burlington. Capturing the beauty of the Skagit Valley's fall and winter months has been his inspiration. The Padilla Bay, the surrounding foothills, and skyline in the variation of grays set the stage for his paintings. As a young man, Roger worked in the fields of Edison. This experience developed a special connection to this area and is translated through his work on canvas. Roger Small studied under Sydney Eaton and received his Bachelor of Arts degree from Skagit Valley College in 1973. Roger also creates metal sculptures and was commissioned in 2014 to create a multi image sculpture titled 'Performers' for McIntyre Hall in Mount Vernon Washington. His latest sculpture installation titled 'Into His Wings' will soon be placed at the Cascade Mall in Burlington Washington.
William Cumming
Small Works
June 8 - August 5
Cumming was one of the youngest members of the Northwest School of artists, centered right here in Skagit Valley, along with Morris Graves, Guy Anderson, Mark Tobey and Kenneth Callahan. Although he was an iconic painter and teacher, (he had a one man show at the Seattle Art Museum and won top prize for watercolor in the Seattle Art Museum's 1940 Northwest Annual Exhibition), some of Cumming's most prolific work could be found in his volumes of sketchbooks.
In fact, the nationally acclaimed artist had a great love for the art of drawing and a skilled eye for the kinetics of the human form. Cumming once declared he could recognize a friend down the road, without ever seeing the face, simply by gait and posture; and those telling instants of a person's movements or posture became key elements in his work.
Cumming could capture a whimsical or highly poignant moment with a few strokes of the pen or pencil. At various points throughout the six decades of his career, he could be found sitting at a coffee house in the University district, with a pencil and sketchpad -- or any other material on-hand, even news print -- sketching those he saw and often selling the sketches or giving them away on the spot. Others he took home to develop into paintings.
This unique exhibition will highlight nearly six decades of the preserved collection of these sketches, including both playful and poignant images of the people and street scenes of Seattle.
The exhibition is hosted by Forum Art's owner, Meg Holgate, and Cumming's widow Dena Lee.
"This exhibition provides an accessible entry point for art lovers of all levels to enjoy William Cumming's smaller pieces," says Holgate. "This is a rare opportunity to visit and purchase work by one of our most respected Northwest Masters."
Claire Swedberg